Passengers
Tanger Med Passenger Port has a nominal annual handling capacity of 7,000,000 passengers. It has 8 berths dedicated to the transit of passengers, vehicles, and freight units.
With 3 access and border inspection areas (at the entry and exit of Morocco), boarding zones, a maritime and road station dedicated to the processing of pedestrian and motor coach travelers.
Tanger Med Passenger Port is directly connected to Spain, France, and Italy. Passenger activity fully resumed in 2022 after the COVID-19-related health restrictions of 2020 and 2021. 2 071 504 passengers have transited through the Port Complex last year.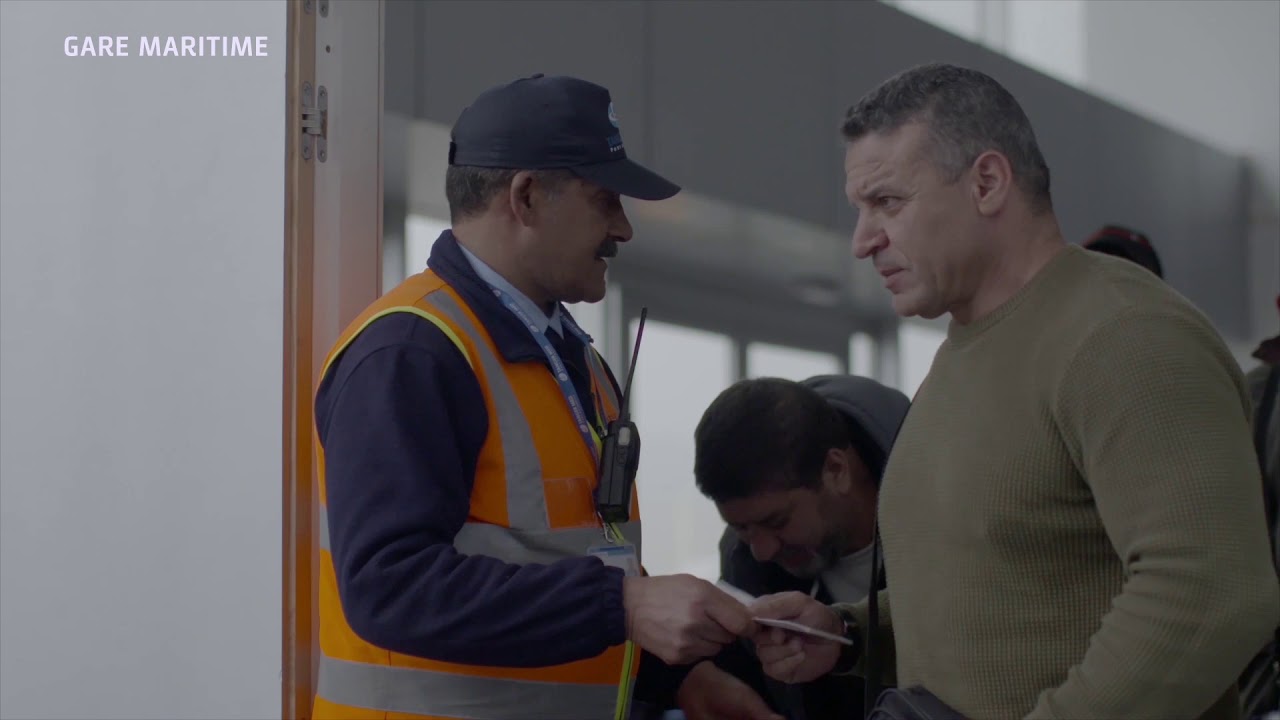 Visit Tanger Med Port Passengers website
The passengers in vehicles circuit benefits from infrastructure that allows for the physical separation of vehicle traffic in and out of Morocco from check-in to boarding, with total separation of freight flows sent through Tanger Med Passenger port. This separation has made it possible to double processing capacity and reduce passenger transit times during peak periods while ensuring better conditions of comfort, safety, and security. And to further optimize transit time during medium and low traffic periods, a new passenger vehicle route has been developed to add a new border inspection area to fluidify traffic within the Port.
Automobile Access is the gateway for travelers in vehicles to purchase or confirm tickets. Travelers will also be able to purchase and confirm tickets online to avoid waiting in the ticketing and confirmation zone.
This access zone is equipped with all the necessary services for travelers such as food and beverage services, currency exchange, sanitary facilities, an information desk, a large broadcasting screen for instant display of vessel departure and arrival times, and green and covered areas. Additionally, a space of 1.8 ha that serves as a Port Regulation Zone has been developed and equipped with the necessary services for waiting passengers.
VEHICLE CIRCUITS
The stamping formalities, when leaving Morocco, are done at the vehicle. For travelers arriving in Morocco, passports are stamped on board the ship. Likewise, the provisional admittance of means of transport for passengers whose usual place of residence is abroad is handled by the computerized system of the Customs Administration aboard the vessels.
BORDER ACCESS AND INSPECTION ZONE (MOROCCO EXIT) INCLUDING:
2 access and border inspection zones equipped with:
42 police booths capable of processing 1,000 vehicles per hour
14 Customs Inspection Offices for travelers in vehicles
A 5,000 m² covered area dedicated to vehicle searches
Dedicated access for motor coaches.
Parking lot with a 500-vehicle capacity
A covered pedestrian area for the purchase of tickets.
10 check-in booths with no need to leave the vehicle for travelers who already have tickets
The design and organization of this space allows for the fluidity of the traffic and the limitation of the passage time per vehicle. The booths have a fiber optic connection
Up to 3 mobile scanner search areas with a covered waiting area allows for non-intrusive inspection by reducing passenger wait time.
BORDER ACCESS AND INSPECTION ZONE (MOROCCO ENTRANCE) CONSISTING OF
16 police inspection booths for vehicle passengers allowing the processing of 500 vehicles per hour without the passenger getting out of the vehicle
5 Customs Inspection Offices for passengers in vehicles
A 1000 m² covered area dedicated to vehicle searches
900 m² of administrative buildings and storage zones for Customs officers and police officers in charge of inspection
Sanitary facilities
A mobile scanner search area allowing for non-intrusive inspections
The Mohammed V Foundation for Solidarity has an office with a medical unit
Pedestrian and motor coach passengers access the port through Tanger Med Port Center with direct access to the ferry terminal. Police and Customs inspections are carried out in the maritime station. Upon arrival, passports are stamped on board the ships during the crossing.
A taxicab, bus, and train service are available for pedestrian travelers to and from Tangier/Tanger Med. The ferry terminal includes a border inspection area, a pre-boarding waiting room, cafeterias, a passenger arrival hall, shuttles to and from the boarding platforms, services (reception, ticket office, bank, currency exchange office, restaurant, kiosk, infirmary, sanitary facilities, prayer room, etc.), a relaxation area, as well as a railway station with 2 passenger platforms and a 7,500 square meter bus station with 9 bus and motor coach spaces.
The terminal is also equipped with escalators, elevators, rapid-charging station for mobile phones, free WiFi and screens displaying the departure and arrival times of vessels in real time.
The pre-boarding areas of the port extend over an area of 8 hectares
They have relaxation areas operated by professionals to improve passenger comfort during their transit.
8 berthing quays
A 400m² relaxation area with restaurant services and Duty Free
Sanitary facilities with ablution areas and prayer rooms
2 playgrounds for children
7,000 m² of shaded areas
Administrative building of the Mohammed V Foundation for Solidarity (reception, medical unit, ambulance, etc.)
Interport shuttles for transferring pedestrians from the ferry terminal to the boarding quays
A service building at the pre-boarding level, including offices of the shipping companies, police offices, restroom facilities, refreshment rooms, and Royal Gendarmerie offices.
Real-time communication
Tanger Med Passengers Port has a range of communication tools in place to keep travelers constantly informed about their trip.




Need assistance?
Contact the person in charge of Passenger and User Services Activity