New Vehicles
New Vehicles Activity was commissioned at Tanger Med Port in 2012. With a processing capacity of 1 million new vehicles per year, the car carrier terminal of the Port Complex is subdivided into two terminals: the Renault Vehicle Terminal (RVT) and the Multi-User Vehicle Terminal (MUVT).
478,589 new vehicles were handled at the two vehicle terminals of Tanger Med Port Complex in 2022, up 11% on the previous year.
The traffic primarily includes:
295,393 vehicles for export produced by the Renault plants in Melloussa and SOMACA
124,112 vehicles for export produced by the Stellantis (Peugeot) plant in Kénitra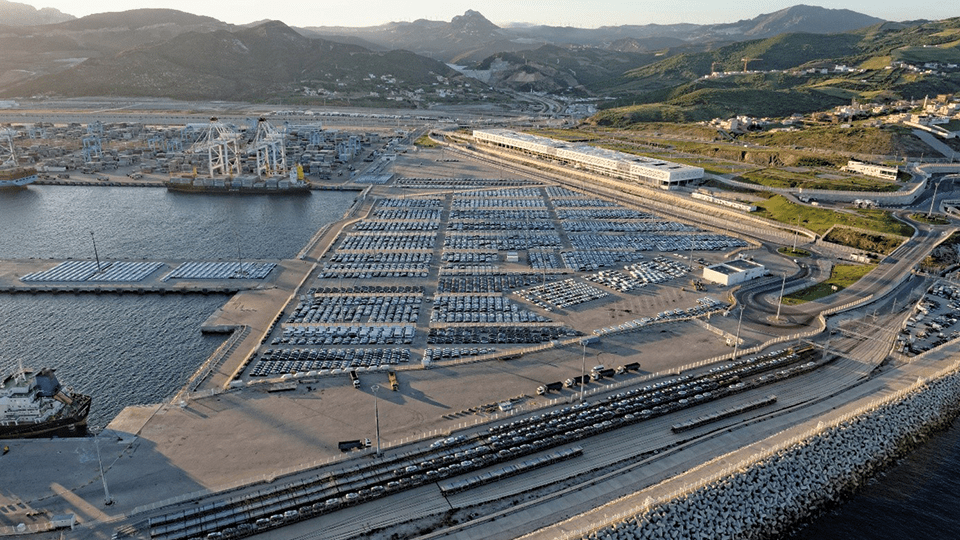 Renault's Vehicle Terminal (RVT)
The Renault Vehicle Terminal covers an area of 13 hectares with a nominal storage capacity of 6,000 vehicles. It can handle the annual production of 400,000 vehicles produced by the Renault Tanger Med plant.
This terminal has two quays that can accommodate the latest generation of cargo vessels (up to 240 m in length and 12 m in depth).
Common User Vehicle Terminal (CUVT)
Adjacent to the RVT and covering an area of 5.5 ha, with a storage capacity of 3,000 vehicles, the multi-user vehicle terminal has the same mole with two quays that can accommodate the latest generation of car carriers (up to 240 m in length), as well as technical and administrative buildings to provide quality services for vehicles for export, transshipment, or import such as PSA, Nissan, Ford, Fiat, Honda, Hyundai, etc.
Railway Vehicle Terminal
The Railway Vehicle Terminal has an unloading dock and 4 lanes with a usable length of 240 m, allowing the processing of half a rack per lane. This terminal allows the processing of export trains from the Renault Tanger Med plant and the Stellantis plant in Kenitra. Each vehicle train can carry up to 280 vehicles.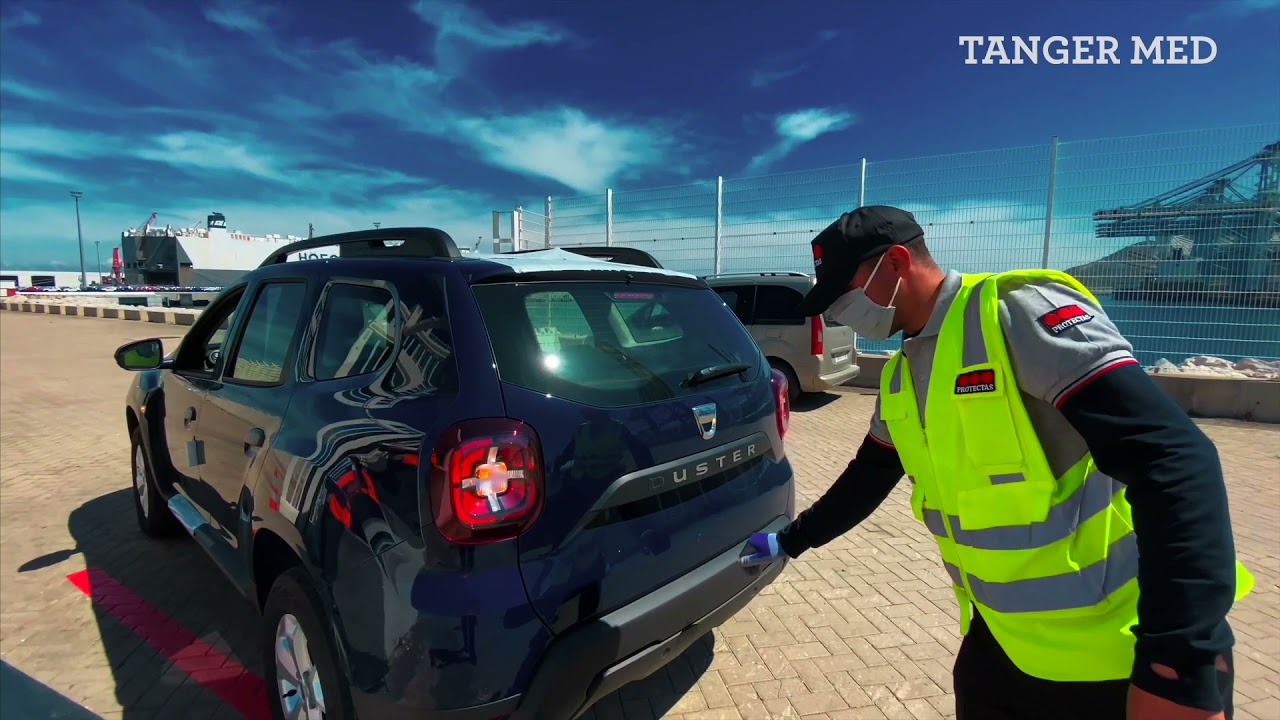 International connectivity
The car carrier terminal is connected to 35 ports including Le Havre, Montoir, Fos Sur Mer, Zeebrugge, Valencia Abu Dhabi, Jebel Ali, Vera Cruz, Brisbane, Kembla… and offers 12 regular services on a weekly basis.
Search for your connecting port
Innovative storage capacity
As part of the reinforcement of the storage capacity of the car carrier terminal, Tanger Med has launched a project to build a multi-level parking lot with 2,400 additional storage spaces. This new multi-level parking lot will support the growth of vehicle exports produced in Morocco (Renault Tanger Med plant, Somaca Casablanca plant, and Stellantis Kenitra plant) and thus consolidate Tanger Med's role as a major hub for the transshipment of new vehicles.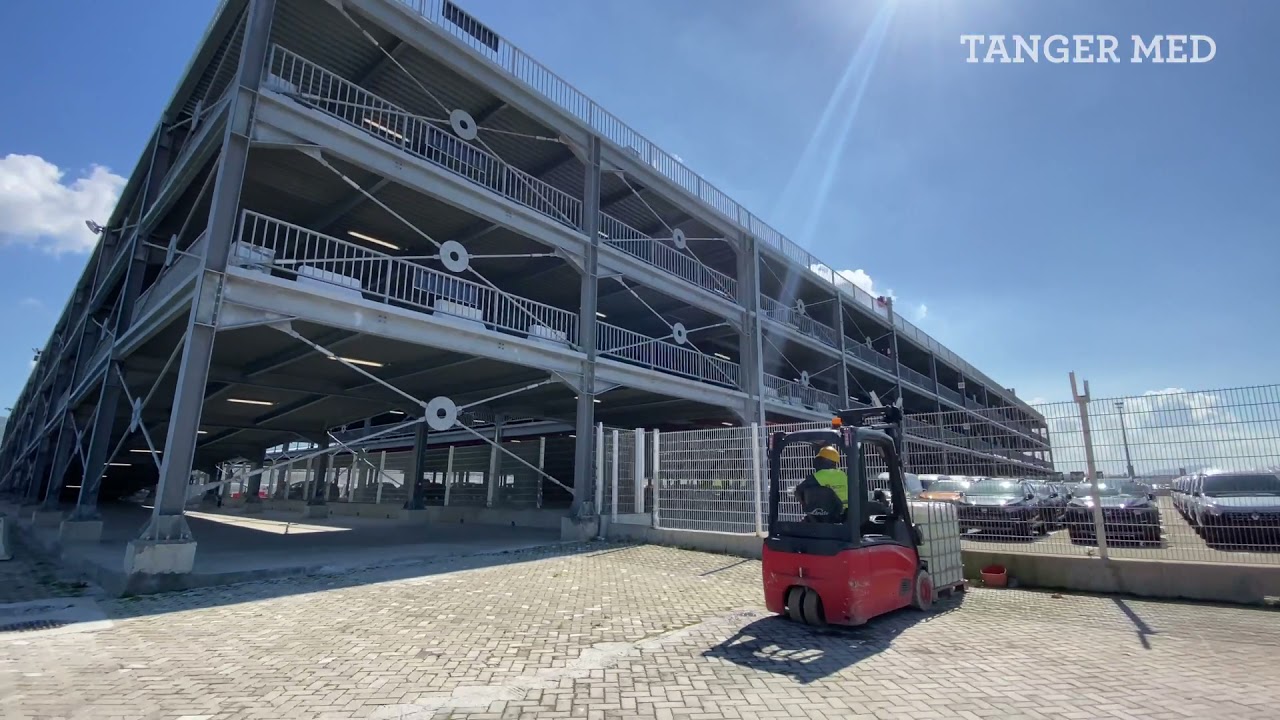 Need assistance?
Contact the persons in charge of New Vehicle Activity