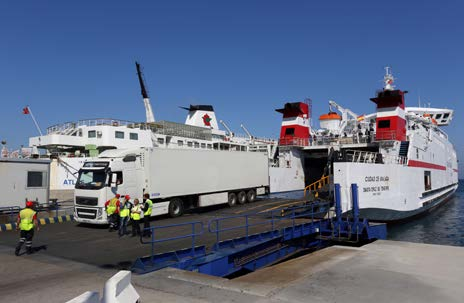 As part of Tanger Med's overall "paperless" initiative, which focuses on the digital transformation of the management of import and export flows, a regulation solution has been developed and put online to meet the need to organize passages between the various zones and inspection stages during port passage. The declarant in charge of a unit, whether for import or export, can find out through their Tanger Med Port Community System account the current status of their unit, and whether it is eligible to move on to the next stage of its route.
In practice, a declarant for an export unit may know that their unit is ready to:
Proceed through the regulation

Corridors Pass the inspection Scan

Navigate to the terminal
A declarant for an import unit may know that their unit is ready to:
Exit the terminal

Navigate to the inspection area

Exit the port (all prerequisites met)
The issuer can thus communicate this information to their representatives at the port level to guide them and optimize their operations.
The secure sharing of information in real time thus allows for the optimization of transit times while complying with the secure sharing of data of the different statement declarants